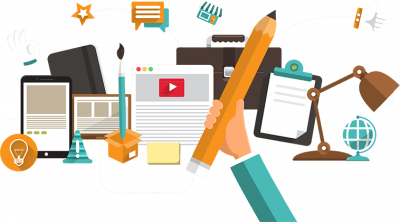 Content Marketing Examples To Look For: Learn To Do The Marketing Right
Almost 84% of brands use Content Marketing. But only less than half succeed. Do you know why? Simply because they don't do it right. Content Marketing might sound easy but it is not. As its name suggests, it is marketing based on content. Now, content is almost everything. The ads you see, posters, blogs, websites, social media posts, everything. Therefore, to do it right, you need some Content Marketing examples.
In this article, I am going to discuss different types of Content Marketing with their examples. Thus, before starting your venture, know what Content Marketing is with some dos and don'ts. Like the ancient saying, Knowledge is Power.

So, there are two things you can do. Either you can go with trial and error method and pray for an accidental success. Or else, you can just learn from others' mistake and plan your campaign accordingly. So, the odds can be in your favor if with the right Content Marketing examples.
Therefore, let's delve into the different types of Content Marketing with some relevant examples.
Blogging
As I said, Content Marketing can be of many types. Blogging comes in our mind first when we think of Content Marketing. This has been there for many years. Millions of bloggers are there, continuously writing about an array of topics. But how many do you know?
Even though blogging seems easy, but it is not. You have to struggle a lot with the SEO to rank on the first page of SERPs. But that's not all. After that, you have to make sure to deliver content that has the right balance of information and ease of reading.
Through blogging, you can visitors' attention easily as long as you provide content with useful information. Thus, it can effectively boost up your brand value and social media presence. Now, if you say Content Marketing examples of Blogging, then the names that come into my mind are Buffer and Hubspot.
Buffer use guest blogging and they usually publish twice a day. And that too on sites with high visibility. Buffer gained almost a hundred thousand users using this technique. On the other hand, Hubspot writes blog posts that cover the minor details. So, the key factor here is in-depth content.
In fact, Hubspot focuses on educational content, utilizing platforms like Facebook and LinkedIn. So, these are the two successful blogs from whom you can learn a great deal.
Social Media Marketing
Now, the next important type is Social Media Marketing. Social media is a platform that can be your gold mine. You can make a fortune with right Social Media Marketing. Think of the different social media platforms, let's say Facebook, Instagram, Twitter.
All of these got some specifications. But one thing is common in all of these. You can get a huge number of audience on each platform. However, the way you plan your campaign will definitely vary. Like for Instagram, you have to choose photo or video ads. For photo, you can post 10 pictures in a single post while for videos, they have to be within 60 seconds.
One successful name if you say Social Media Content Marketing examples is GE. GE can be your inspiration if you are thinking of a B2B approach. Using Instagram, GE gained 8 million views, 3 million reaches per tour, and thousands of new followers.
Another example is Glossier. This particular company came into the light after utilizing user-generated content to promote their brand. This idea was a work of art. It eliminated the hectic of content creation and result in profit.
Also, if you think of how McDonald's reintroduced their signature burger. They simply replied to some old posts on Twitter. Fans were dumbfounded with the act. And within a week they declared that they are bringing the good old signature beef burger back. Zero investment and significant return.
Visual Content Marketing
Visual Content Marketing is the most interesting form of Content Marketing. It includes all those images and GiFs you see. You can use them quite well for brand promotion and advertisement. Almost 94% of the ads include images. So, if you are creative enough, it will be fruitful.
One such Content Marketing examples is Zomato. It is an app that finds restaurants for you. You can use some filters like, near you, offers, free delivery, and so on. And then, you can get food from a restaurant delivered at your door-step. Zomato is available in 24 countries and almost everyone knows this app.
Zomato uses Visual Content Marketing to promote new offers and deals. These images are simple, to the point, and generate leads.
Another example is Shutterstock. Shutterstock uses images, videos, and music for campaigns. So far, these visual contents of Shutterstock have an average of 10000 shares.
Tried-and-True Content Marketing
Tried-and-True Content Marketing is all about knowing your audience and providing what they want. This doesn't rely on social media promotion or anything. These are mostly a non-profitable strategy. But if you can use this technique well, it can contribute to your growth.
In this context, two examples I will like you to know are John Deere and AARP. AARP won awards for quality content. They pay attention to their readers genuinely. And John Deere made its name back in 1985.
Video Marketing
Video Marketing is a type of Visual Marketing. But in this case, you only use videos. Different ad films gained success using this strategy. You can take Old Spice as an example. Old Spice was struggling to make a come back for quite some time.
Finally, using Video Marketing, Old Spice created an image that portrays the brand as fresh, young, and hot. And soon, it became relevant to the youth again.
Other Content Marketings
Well, there are many types of Content Marketing as I said before. I have already elaborated all the important ones. Among others, E-Books and Resources is another type. And, the Content Marketing examples of this type are LinkedIn and Simply Business.
While another prominent example is Coca-Cola. Their idea of "Share a coke" was a huge success. Then, there is Grant Thornton who chose data analytics as their path of success.
That's not all. You can further see Burberry and Buzzstream. These two brands also made a fortune using Content Marketing. Well, I can go on and on if you ask for examples of Content Marketing. But I think, these 16 are quite enough for you to understand how Content Marketing can help.
Content Marketing Examples: Ending Note
So, as you can see, many brands made their fortune with Content Marketing. You can also do the same. First, choose a strategy that fits your products and services. Always pay attention to brand promotion.
And, with these Content Marketing examples, you can also achieve the success you dream of. But make sure to take into consideration the Return on Investment. Also, stay accustomed to the ever-changing algorithms of the platform you chose.
Don't just develop a strategy and think that will be fruitful till the end of time. Algorithms change, markets change, and so does the need. So, keep evolving with the change and growth will be inevitable.
0 Comments