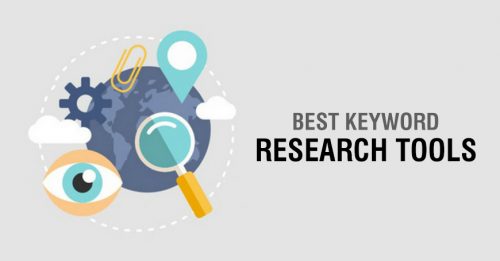 It's All About (The) Seo Keyword Research Tools | Your Handbook
Search Engine Optimization or SEO has focused on the importance of the keyword relevancy for the ranking of the websites over the years. In short, the keywords are now ever essential to be present only in appropriate places along the content.
The SEO now stresses the use of proper keywords. In fact, keywords which are not an exact match but are related, as in long tail keywords, are of huge value. This being said, if you go ahead without considering the keywords and only show your concern about the content. Here again, it would be a wrong step. Thus, the latest algorithm of Google state that the content you develop must be rich in information and of good quality. So, the keyword research still is the key when it comes to SEO. This is because it is only via the keyword research that you would know the online trends. This, in turn, would give you the first gear once you work on it.
As the research of keywords is paramount, hence, you should also care for using premium tools for the keywords that you would use. Here, you would know the best SEO keyword research tools.
Know your Keywords
Keywords, just as the name implies, are the important words on the basis of the worldwide searches for a Search Engine. Hence, keywords should be researched well and while you develop your content, should be sprinkled throughout it according to the market demands. And for it, SEO professionals go for the best available tool.
As SEO is a business grew rapidly as ever and we understand the significance of the keywords. Here, we will give out some tools which can work wonders. So, regardless of you being a novice or an SEO expert, getting a glimpse of this post would definitely be of some help.
Assorted SEO Keyword Research Tools
As you know now the value of keywords in your content and SEO in general, we know you are quite excited to have a quick glance at some of the popular keyword research tool. So, here they are.
Google Keyword Planner
Among the most widely used keyword research tools which are consistent enough is the Google Keyword Planner. It is, in fact, a robust stepping stone going about to research your keywords. Though it is designed for advertising, you can easily get organic keywords through it. For this, it customizes the results you get for one of your competitors.
What you need to do is just enter your product or service. The other pieces of information that you should be filling in are the competitor's landing page and the product category. Thus, you can personalize your search for keywords of a specific type.
Moreover, you should consider both the keyword ideas and ad group ideas simultaneously. Both of these add to the SEO that you are aiming at. In the section of Ad group ideas, you would see related keywords, these might not be included in the general keyword ideas.
Features:
Search keywords and ideas for your ad groups.

Pull the search volumes up for an array of keywords or perhaps, segment them into ad groups.

Know the traffic prediction for a number of keywords in a list.

Expand the lists of the keywords to sketch on new ideas for keywords.
The average monthly searches of a keyword, the competition, and the other metrics mark the keywords that you can go for. Planning to do both SEO and PPC together is many experts' way. You can do that too via the Keyword Planner. It will then put in front of you the keywords that you need to target organically and those that need to go with advertising. You can even craft your long tail keywords with Keyword Planner as the base of it and with the help of the below-mentioned tools.
KW Finder
If you are looking for long tail keywords, KWFinder would not disappoint you. Apart from having a convenient interface, it helps you with the trends, search volume, CPC, and the level of difficulty for each keyword.
KWFinder is a keyword finder at the most basic level but on top of that, it also shows the keyword difficulty for the individual keywords.
Another important feature of KWFinder is that it is deep-rooted if you are seeking for the research of the local keywords. You can target your results by state, city or country. Thus, quite significantly, this tool capitalizes on Keyword Planner, Google Suggest, and Related Searches.
Keyword Tool
Keyword Tool is seen as a gateway for the mining of keywords. This tool gets its help from the data of the Google Autocomplete to lay its database of the suggestions for the long tail keywords. If you are determined to use Google's Keyword Planner for researching keywords, Keyword Tool is also something to know. As Keyword Planner is mainly designed for the advertisers, you won't always know the profitable long tail keywords. Therefore, the Keyword Tool happens to be quite handy in this function.
Furthermore, it is important to know that it also helps you to know long tail keywords for Youtube, Bing, Amazon, and the App Store.
SEMrush
SEMrush, promising as they are, has developed their own amazing keyword research tool loaded with incredible features. Moreover, this lets you research the keywords that can make their stand in both Google as well as Bing. Besides, it also shares with you all the pieces of information like CPC, volume, trend.
Furthermore, the related keywords and phrase matches can also be checked thoroughly here. SEMrush also takes region oriented keyword research pretty seriously.
Features:
Via the

SEO keyword research tools of SEMrush, you can spur both your dreams of SEO and PPC research.

Your look for related keywords and key phrases would definitely end landing up here.

It also focuses on the research for the relevant long tail keywords for you.

It shares a result of a competitive analysis with respect to keywords.

Talking the help of the regional databases, SEMrush brings them all for the International SEO.
Keyword Explorer from Moz
Moz is a website and an organization which gets a mention every time one talks about SEO. No doubt Moz has developed its Keyword Explorer as an exhaustive tool for the mass interested in SEO. Regardless of the volume and difficulty, Keyword Explorer also provides:
Opportunity – You would get to know the relative CTR of the organic results displayed on a SERP.

Importance – KWFinder would also help you with the knowledge of how critical the keyword is for your goal.

Potential – It will give you a set of all the metrics for the analysis of keywords that will help you prioritize.
So, if you're still unsure how you can benefit your website once you have already gone through the above-mentioned tools, you need to get them as early as possible. With these SEO keyword research tools, it would never seem to rank your website as a task colossal. If you want more such informative articles you can stick to our website and glance through our posts regularly. We believe we are helpful enough.
0 Comments