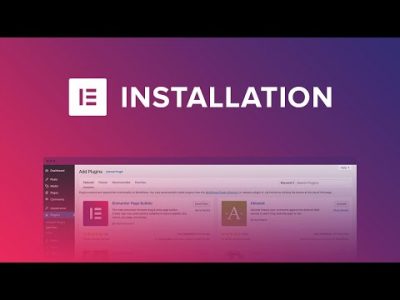 Learn How To Install Page Builder In WordPress By Following This Step-Wise Guidance
Working with WordPress can be a challenging task sometimes, especially if you want to build custom pages for your website. This is one of the major reasons why many leading businesses invest in various page building tools for meeting the needs of their websites. Fortunately, there are a few effective plugins to create customized pages for WordPress sites. So, if you are also considering this tool for your business or personal use, keep reading this article for more information. Here, we will discuss step-by-step details on how to install page builder in WordPress with a free membership plan. You can also follow this article to learn the steps for installing a page builder plugin with premium features in WordPress.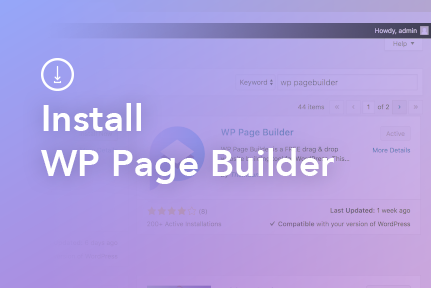 Why Should you Install Page Builder for your WordPress Website?
Before discussing the steps in details regarding how to install page builder in WordPress, you need to know its purpose. So, let's cover a few important points to gain clarity on the necessity for a page builder plugin or tool in WordPress.
Often, WordPress site owners utilize pre-built themes for creating their website which already may be chosen by other competitors. This risks the duplicating from another website design and kills the uniqueness of your business. Hence, in order to prevent such a situation and maintain integrity, you can install the page builder in WordPress.

By using the page builder, it will allow the owners to customize their websites according to the business' needs. Also, it can help users or potential customers to differentiate between multiple websites, which are dealing with similar products.

It doesn't matter which page builder plugin you install since a majority of them are customizable. Hence, users can easily create, edit and customize their pages without typing any CSS, HTML or other codes.
How to Install Page Builder Plugin for your WordPress Pages?
When it comes to selecting an all-in-one page builder plugin for WordPress pages, there are multiple options. Further, you can always start with a Page Builder plugin, which is available as both free and premium versions.
However, before you check out the steps on how to install page builder in WordPress, let's discuss a few things about Page Builder software.
Some Information About Page Builder Tools
If you are considering to install a reliable page builder tool for managing your WordPress content, you can select a Page Builder program. It is an open source software and provides free access to users with a valid WordPress account.
The plugin of Page Builder can offer multiple add-ons for experimenting with versatile website designing elements. It can provide shape divider feature to give a unique look to your WordPress site.
In case, you want to launch your website with multilingual compatibility, the Page Builder tool can help to outreach your audience.
Users can also explore the features of drag, drop, undo and re-do with the custom templates and themes in WordPress. If you build pages using a top-class Page Builder plugin, it will be readily optimized for mobile devices.
Hence, for those who are looking for responsive web designs and themes, you can check out how to install page builder in WordPress.
Instructions to Install Page Builder Plugin from WordPress Search Bar
One of the best methods for downloading a plugin for your WordPress account is to utilize the search box on the 'Add Plugins' page. The only limitation of this feature is that you can get suggestions on plugins which are exclusive for WordPress.
However, if you are looking for free plugins, they can choose one from the directory of WordPress plugin. Now, let's discuss the steps to understand how to install page builder in WordPress one by one.
Steps to Follow
So, the first step is to open the admin area in your WordPress and select the tab for 'Plugins' below the 'Dashboard' section. Then, choose the option of 'Add New' and go to its extended view, as you click on it.
Find the search bar on your screen and type the name of the page builder plugin you wish to install. The suggestion will display a list of WordPress plugins with its key features and rating details.
Now, it's up to you which Page Builder plugin you want to upload for your WordPress. Once you shortlist the plugin from the list of available options in the directory, hit the 'Install Now' tab.
You will have to wait until WordPress completes the download and installation of Page Builder. After the entire process is over, you will receive a success notification along with a plugin activation link. It will also provide two links, one for directly activating the page builder plugin and another for returning to the plugin installer.
The above steps are useful if your question is regarding how to install page builder in WordPress. But, installing the plugin is not enough to use the features of WordPress Page Builder. Hence, you will have to click on the link for 'Activate Plugin' and follow the instructions to enable it on WordPress.
Steps to Install WordPress Page Builder using FTP
This method is for those who are unable to install the Page Builder plugin from the WordPress Admin area due to legal or copyright restrictions. So, you need to install an FTP client for uploading the plugin for your WordPress.
For finding the suitable FTP client, you can take help from an expert and click on the link /wp-content/plugins/ after connecting to it. Now, extract the plugin installer from the zip file and select the 'Upload' option.
This will link the plugin to your WordPress admin area, which you can access by clicking on 'Plugins'. Then, open 'Installed Plugins' and locate the installed Page Builder plugin from the list.
Finally, click on 'Activate' and configure the settings for your WordPress plugin.
Know How to Install Page Builder in WordPress with Premium Features
The above instructions were recommended for those who want to know how to install page builder in WordPress. But, if you want to enable premium plugins in WordPress for page building, the previous method won't work. Hence, there is a special feature of 'Upload Plugin' in WordPress to install paid plugins.
So, to install a page builder plugin, click on 'Plugins' tab by visiting the WordPress admin area or below the heading of 'Dashboard'. Then, locate the 'Upload Plugin' button beside 'Add Plugins'. This will open the plugin upload page on your WordPress, where you can click on the 'Browse' button.
Below this, you will get the tab for 'Choose file' and upload the Page Builder plugin already downloaded on your system. If you are not aware of the paid plugins, you can consult a professional and ask how to install page builder in WordPress with premium features. They can suggest effective tools along with membership plans before uploading the plugin for creating WordPress pages.
Once, the uploading is complete, WordPress will generate the message regarding 'Plugin install successfully'. Like the previous method, this one will also offer two choices after installing the plugin.
Hence, you can either activate the plugin by making the payments or return back to the plugins page. To know more about page building tools, you can get in touch with a WordPress technician. He/she can provide detailed guidance on how to install page builder in WordPress.
0 Comments