Boost A Post On Facebook: A Discussion On The Benefits And Usage
In order to market your ideas and services wisely, a certain boost in the investment triggers the promotion to be more effective. Not always is it possible to maintain the visibility of your posts to all your followers. But, does this mean that you must leave it at that? No, make sure to boost a post on Facebook that you publish and make it easily noticeable with a bit of investment.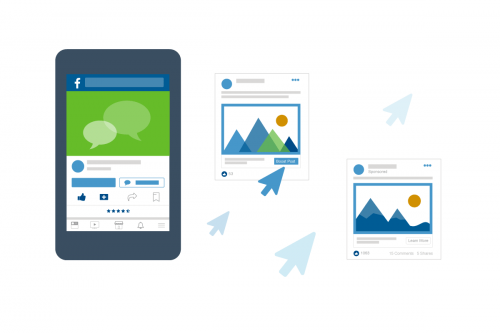 A quick boost on the posts can create brand awareness and therefore bring you more followers. Furthermore, doing this indicates that you are willing to pay to make your content visible and get more viewers. Facebook possesses this feature which acts to augment the traffic. Without a basic investment, the quality content that you created can also become futile given the challenging conditions in employing the methods for organic traffic.
However, in this article, we feed you with a wholesome guide to boost a post on Facebook productively. Also, we touch upon the benefits of this dedicatedly.
The Prolific Benefits of Boosting a Facebook Post
The entire process of boosting is extremely user-friendly apart from the fact that it yields dramatic results. Stick through in order to know all the advantages and how it benefits the entire process of advertisement and marketing.
Compensates for Declining Organic Reach
The organic reach for business posts is experiencing a quick decline. In simpler terms, it indicates that the number of viewers that your published posts can reach is falling very quickly.
That is because the motive of Facebook is actually publishing updates and posts of family and friends instead of brands. In order to stand distinctively from the basic crowd, employ the boost post button to increase conversion.
Extend your Reach to a Wider and More Relevant Audience
If you boost a post on Facebook, you can extend your empire in diverse ways. The post receives attention sufficient to make favorable changes in the sales of the business. Also, you aren't confined to present your ideas only to already-subscribed followers. You tend to become noticeable, thanks to this feature, to other potential customers and stakeholders outside the follower circle as well.
Furthermore, you can arrange parameters for the diverse types of people who will view the page. For instance, you can set particular demographics like only letting 25-35-year-old men view and read your post. In this manner, you can extend your empire and accept new possibilities and challenges.
Convenience of Usage
Now, over to the usage of the Facebook post boost button. With just a simple and hassle-free click on the Boost post key, the specific content goes live instantly. Then, after Facebook conducts a review of it and provides a go-ahead, the post begins to reach more and more people.
Also, do not linger on the thought about the type of post. From short messages, videos, images to link to a website, etc anything can be augmented with a little investment boost.
Renders the Authority to Control
With this premium feature, you can edit and manage the posts that you have published once it goes live. This also contributes to the convenience of use and tackling the posts to the utmost. Furthermore, if you plan to remove the boost effect on a particular post that you have already published live, and want to employ it to a second post, you can do it with utmost convenience. In this way, you can boost a post on Facebook and tackle the settings whenever you think fit.
Access to Analytics
All the benefits are great but how will you evaluate your performance? You also require some kind of statistics to examine the achievements of the boosted post. This is where Facebook Insights enters and makes it convenient for you to study. To do this, proceed to the Insights tab and then click on Posts.
Therein, a list of all your posts, encompassing the boosted ones are present. The list is in a chronological manner in terms of clicks, comments, reach, shares, and reactions.
Features of the Facebook Boost Post
In this section, we present a brief discussion regarding the traits of the option to boost a post on Facebook in a thorough manner and with details. The responsibility to create content is entirely yours and it can be in any form. With the Facebook boost post feature, you can easily power any post regardless of its type and format.
Be it an announcement, a call-to-action or a promotional post. Furthermore, there exist three major variables which you must emphasize.
Audience
Arrange the parameters for the people who can view your boosted posts. To do that, you can make a persona by stating the age group, the location, gender, and interests. Doing this, you can narrow down to maintain the relevancy in choosing your audience. Furthermore, you can also form custom viewers depending on the current contacts. Considering this, you can fetch appropriate potential customers thereby enhancing the conversion rate.
Budget
The business authority enjoys comprehensive control over the expenditure. This makes you informed about the scenario of the current expense and lends you to manage it as well.
Duration
Run the advertisement only for a limited period of time. Now, it can mean a single week or even day or sometimes until you turn it Off manually.
How to Boost a Post on Facebook
Now that you know the essentials, it is best if we begin with the discussion regarding the procedure to boost posts on Facebook.
Handpick a Post to Boost
For this, click on the grey colored Boost Post button present in the post box on the lower-right corner. In case you want to boost an already-existing content, make sure to click on the blue Boost post key present on the lower-right corner of that particular piece of content.
You can also go to the tab of Insights and view a list of all the posts that you have published. And each bears a Boost Post option beside it.
Target Relevant Audience
After you have clicked on the option to boost posts, a menu appears where you must choose the options for targeting. By default, you have the alternative to include only those people who follow or like your page.
However, for this, you need to arrange the specific demographics in order to narrow down your choice of audience and fetch those who are more relevant. In this way, you can filter the number of people and successfully boost a post on Facebook.
Arrange your Budget
Selecting a budget for the campaign comes next to managing the type of audience. Now that you have managed to set your audience, you possess an actual gauge for the post's ability to reach supporting each budget tier.
Set the Duration for Boosting
Make a decision as to when you need the post to run. Now, you can opt for a day or seven or even less than a fortnight. Either that or you can opt to run the advertisement on a specific date in the near future.
Preview the Post
Review the ad thoroughly and make sure that the content is error-free. Also, test if all the links function properly and all the visual components appear good. Please note that it is the final chance for making alterations before it goes live.
Choose a Payment Method
In this step, fill out the essentials and select a procedure for making the final payment. Also, obey the on-screen instructions carefully.
Boost
After the payment, then comes the time to boost them up! Now, Facebook conducts a thorough review of the augmented posts because of which it may take some time to publish your content. Moreover, you can inspect the status of those particular posts at any time. For this, inspect the Ads Manager's Delivery column.
Wrapping Up
With a clear objective in mind and the power of the Facebook boost, you can conveniently succeed in marketing a product or promoting an idea. People who otherwise would have not known about the brand you own will follow you and consider you as an authentic source.
Therefore, boost a post on Facebook to augment the marketing strategy for conversion through contents.
0 Comments